Setting up a Tech Startup in Singapore? Here's All That You Need to Know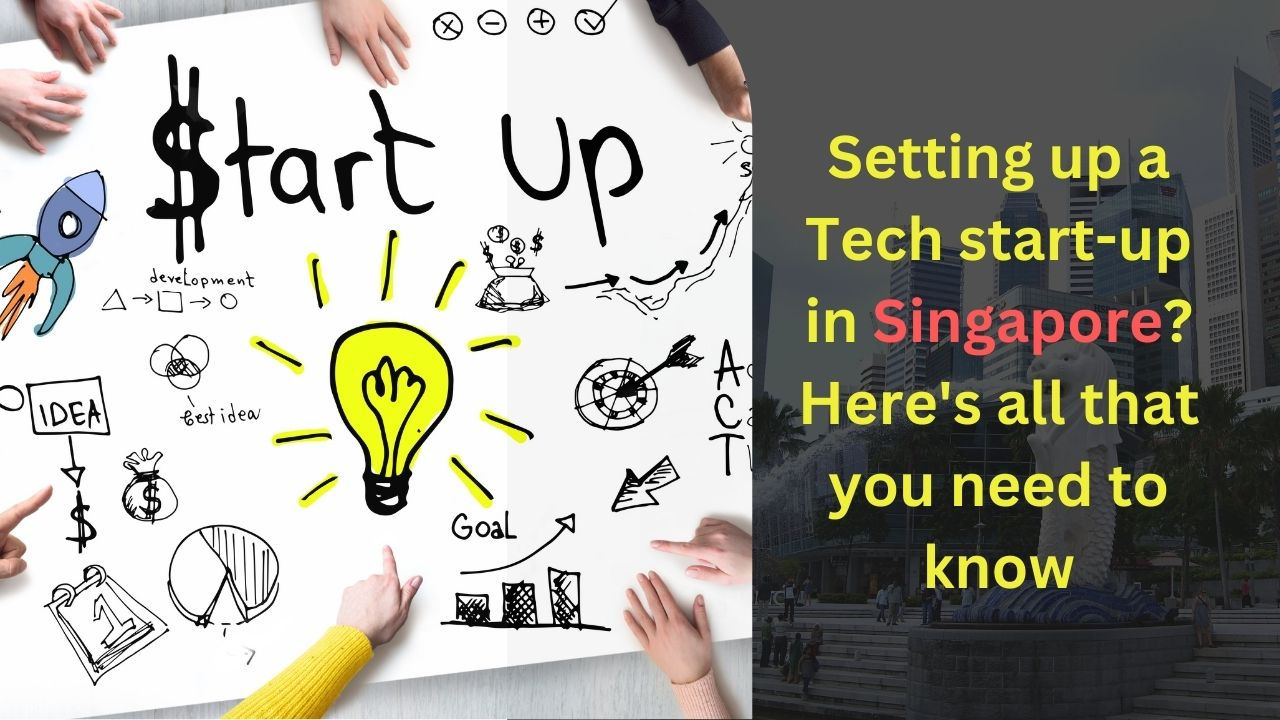 Image source: Unsplash https://unsplash.com/photos/QckxruozjRg
Entrepreneurs interested in starting a tech company always look for a place that gives them the best conditions to kick-start a technology business. Singapore is a popular choice, and many startups there have achieved great success in a relatively short period.
Singapore might be a perfect choice if you want to see your newly-established business develop and expand.
However, starting a company in any country is challenging, and startup executives must be well-prepared to advance their projects. This guide covers everything you need to know before setting up a tech startup in Singapore.
Why Establish Tech Startup Singapore?
Starting a business in Singapore is something that many investors have been doing over the past few years. What exactly makes Singapore such a unique choice for startups?
Well, Singapore is home to more than 3,800 tech startups, contributing to the current market value of $89 billion. In addition, there are 12 unicorn companies in Singapore, which are private startups valued at $1 billion or more.
Singapore has become the leading startup ecosystem in the Asia Pacific in 2022. It has countless innovation projects, and engineers from all around the world are creating solutions that are in high demand.
Having that in mind, it's no wonder both beginners and industry experts are looking to establish a technology startup in Singapore.
Image source: Unsplash https://unsplash.com/photos/5QgIuuBxKwM
Steps to Starting up a Tech Company in Singapore
When starting up a tech company in Singapore, investors must ensure they take all the steps necessary to launch a successful business.
From choosing your target audience to demonstrating entrepreneurial commitment, there are many essential steps to make the most of your investment.
1. Choose a Niche Market
Determining your niche market is the first step to launching a tech startup in Singapore. Like e-commerce businesses, a niche market helps startups connect with their customer base.
Choosing a niche market allows specific customers to quickly discover your fintech startup and purchase products or services from your brand instead of the competition.
Moreover, a well-defined niche market can also help you make better business choices since loyal customers can clearly understand what they like and how your offer suits their needs.
Therefore, having a niche market is the foundation of your future decisions, so choosing one as early as possible is crucial.
2. Formulate a Strategic Plan
There's no professional growth without a formulated strategic plan. However, when businesses develop a concept of what they're trying to do and the results they aim to achieve, it's much easier to track the progress of smaller objectives and primary goals.
The role of a strategic plan is to lay out the directions, critical initiatives, requirements, and overall vision the startups will take to meet strategies and accomplish goals. It helps an SG startup tech determine its priorities and organise the business.
As a result, company owners gain a better understanding of the strengths and weaknesses they're dealing with, which allows them to make informed decisions and directly impact the success of their startup.
3. Engage a Corporate Service Provider
Even though you might possess all the knowledge you need in the technology industry, setting up a startup requires much more qualified and certified skills set.
Namely, running a business comes with great responsibility, so you might consider hiring a professional company to manage your corporate filings, especially if you lack the proprietary know-how.
A corporate service provider does precisely that. It's a company that helps other businesses with their corporate filings.
Besides that, corporate service providers often offer advisory services on taxation and accounting. If you're unsure about the government laws in Singapore, a corporate service provider can also provide legal advice.
4. Register Your Company
Once you define your niche market, formulate a strategic plan, and engage a corporate service provider, it's time to register your startup.
There are several possibilities when it comes to tech startup registration in Singapore. You can choose from the following business structures:
Private Limited Company (Pte Ltd)
Limited Liability Partnership
Limited Partnership
Partnership
Sole Proprietorship
In Singapore, most entrepreneurs go with a Private Limited Company. This dynamic and scalable structure gives investors much-needed flexibility when forming a tech SG startup. A Pte Ltd also limits entrepreneurs' liability to their project share capital.
Another popular choice is Sole Proprietorship, an excellent option if you're working with proprietary technology with little to no risk.
Image source: Unsplash https://unsplash.com/photos/IgUR1iX0mqM
5. Approach Incubation Centres for Startup and Growth
Incubation centres are organisations that help new business owners grow their businesses.
Considering these firms' primary purpose is to support investors and their new business ventures, it might be a good idea to approach incubation centres that can help you grow your startup SG tech.
Generally speaking, startup incubators are non-profit organisations; the government or private entities can run them. There are plenty of incubation centres in Singapore, so you'll be able to find one that fits your needs regardless of the available resources.
6. Try to Get an Early Stage Funding
Funding is one of the critical parts of launching a successful startup. There's not much you can do without funding, so it might be a good idea to receive early-stage funding. Early-stage funding is the process of obtaining funds you can use for the development and growth of your startup.
While placing your company's future into someone else's hands will be challenging, you'll benefit immensely from receiving a tech grant startup, whether it's early-stage funding or seed funding.
Although every funding round helps your tech startup differently, early-stage funding can make a difference if you're at the beginning of your journey.
7. Start Networking With Other Tech Startups in Singapore
Many Singapore tech companies are struggling with more or less the same issues as you. Even though you might consider these companies your competitors, you can benefit significantly from networking with other startups in your industry.
Working in technology incorporates the creation of innovative projects that are high in value.
If you're in the startup stage, navigating the complex operations, which are usually part of the process, might be difficult. However, by networking with other technology startups in Singapore, you can unlock new investment and funding opportunities for your newly-established company.
8. Hire the Right People
The success of your startup SG primarily depends on the people who are part of the team. Executives and leaders aren't the only ones responsible for your startup's success. Instead, the entire team's dynamic can dictate how your startup progresses, which is why hiring the right people is essential.
Technology companies must invest in recruiting processes to add experts to their payroll, from research scientists to data analysts.
Whether you request a formal application or design a platform where candidates can apply for a position, the choice is yours. Remember to hire people with adequate skills to tackle all your tasks and projects.
9. Demonstrate Entrepreneurial Commitment
Technology startup owners and investors must demonstrate entrepreneurial commitment when embarking on a journey such as a startup development.
Commitment is critical among investors and entrepreneurs because it allows them to push their startups in Singapore even when things get complicated.
Whether you're having trouble with project development, funding, or Singapore markets, entrepreneurial commitment will ensure you use the available resources in the best possible way and find a solution to navigate the unknown.
Besides that, commitment sets an example for your startup employees on approaching difficulties and finding appropriate solutions.
Image source: Unsplash https://unsplash.com/photos/rxpThOwuVgE
Why Appoint a Corporate Service Provider for Starting a Tech Company?
Now that you know more about the critical steps to starting a technology business in Singapore, you might wonder whether it's essential to appoint a corporate service provider when launching your startup.
Here are several important reasons corporate service providers are an indispensable element for startups.
1. Saving Time and Effort
Starting a technology business is a big step that requires plenty of commitment, innovation, and investment. Owners of tech companies have a lot on their plate, especially if they want to see their startups expand and grow right in the beginning stage.
Handling all the tasks can quickly become overwhelming, especially if you don't have any interest in legal and accounting functions. Fortunately, appointing a corporate service provider can change that.
These companies will complete the tasks you're not knowledgeable about, saving you time and effort. That way, you'll have more time to focus on the more critical elements of your technology business that bring value to your company.
2. Up-to-Date Knowledge of Tax Compliance
Investors and technology experts might have some knowledge regarding tax compliance, but that knowledge is most likely limited and maybe even not up-to-date.
However, when launching startups in Singapore, it's imperative to be informed about all the latest government proposals and tax compliance updates to avoid hefty fines and more severe sanctions.
That doesn't mean owners of companies have to keep track of all the latest governmental updates on tax compliance because hiring a corporate service provider will do the trick.
Hiring the right corporate service provider will also gain you access to tax exemptions and benefits that you are qualified for even as a start-up for the initial years. You will be surprise how tax friendly the Singapore tax authority is to ensure all start-ups have the right support and environment to be successful.
3. Experts Handle Business Requirements
From determining the project's eligibility to calculating the paid-up capital for an SG tech grant, you'll have to complete all kinds of processes when launching a business in Singapore.
If you're unsure whether you can complete these tasks on your own or would like the much-needed peace of mind by handing over different business requirements to experts, appointing a corporate service provider is the best step.
Experts will likely find more optimal solutions and create better processes for your company, allowing you to focus on the bigger picture of your technology startup and explore the markets.
4. Mitigate the Cost and Risk of Starting a Business in Singapore
It's safe to say creating a startup comes with plenty of costs and a considerable amount of risk.
If this startup is your first one, you might have difficulties mitigating these costs and risks, a process that can secure the best growth and development opportunities for your company.
Luckily, you can procure much better conditions for the technology startup with a corporate service provider by your side.
A corporate service provider will mitigate the costs through various funding options, such as seed funding, and minimise the risks through the final panel evaluation.
Image source: Unsplash https://unsplash.com/photos/SYTO3xs06fU
5. Access to Benefits Under Digital Economy Framework for Action Initiative
Finally, providers of corporate services have a thorough understanding of the Digital Economy Framework and how you can use the benefits of this framework for the action initiative.
Accelerate Economic Growth By Digitalising Businesses
Today, all businesses need to build their digital presence to accelerate economic growth and create beneficial market conditions for their startup. That's especially true for technology companies, so launching a digital platform is necessary.
From brand websites to various social media networks, presence on every digital or trading platform can do a lot for a startup in the developing stage.
Support Companies By Integrating a Tech Ecosystem
Considering Singapore is becoming one of the go-to places for launching startups, integrating a tech ecosystem can support commercially viable technology companies in highly competitive markets.
A tech ecosystem is a whole network of individual entities responsible for developing innovative solutions in the tech industry. A tech ecosystem is often an interconnected and interdependent system, so it's crucial to provide the necessary support to every startup that's part of it.
Transform ICM Sector With The Help Of the Infocomm Media Development Authority
Considering that the Infocomm Media Development Authority (IMDA) released the Industry Transformation Map (ITM), Singapore has a decent strategic outline for developing the digital economy.
The Infocomm Media Development Authority is transforming the ICM sector and enabling a substantial economic and digital advantage for other sectors. With that in mind, we can confidently say the ICM sector is the backbone for the development of numerous other industries.
Image source: Unsplash https://unsplash.com/photos/OtHEYbQXLFU
What Are the Essential Factors to Consider While Hiring a Corporate Service Provider?
As a tech startup in Singapore, you'll have access to countless corporate service providers. With that said, selecting only one provider of corporate services for your startup will probably be challenging.
Here's how to ensure you make the best choice for your business.
Support Services
The first thing you should check is the support your innovative startup will receive by going with a particular corporate service provider.
Although all providers will offer you corporate filing as the primary support service, many will provide accounting services, legal advice, and additional forms of support.
By outlining the legal and accounting support you need for your startup, you'll be able to select the best corporate service provider for your vision and goals.
Transparency
Transparency is another crucial element when selecting the best corporate service provider for your startup. You wouldn't want to work with shady companies because they'll find ways to exploit your funding sources.
Instead, go with transparent providers who don't have an issue with giving you details about how they will support your startup.
That includes drafting a tech grant and explaining how they'll approach every funding round.
Cost-effectiveness
Finally, you always want to go with a cost-effective corporate service provider that'll come up with the most effective methods for the lowest possible price.
While many believe finding an efficient and cost-effective provider is impossible, you can certainly do it with time and research.
Many corporate service providers put the satisfaction of their customers as their main priority, so they'll go out of their way to offer high-quality results at a competitive price point.
Image source: Unsplash https://unsplash.com/photos/w7ZyuGYNpRQ
Conclusion
If you're planning to launch a tech startup in Singapore, there are several things you should know before committing to the idea. After reading this article, you undoubtedly know why Singapore is becoming a world-leading hotspot for tech startups and what you need to do before creating one.
Reference Links
https://aspireapp.com/blog/what-is-a-tech-startup-and-how-to-start-one-in-singapore
https://www.startupdecisions.com.sg/singapore/incentives/startup-funding-sources/
https://www.singaporecompanyincorporation.sg/blog/a-beginners-guide-for-incorporating-tech-start-ups-in-singapore/
https://www.businesstimes.com.sg/garage/singapore-startups-increasingly-tapped-to-tackle-national-issues
https://www.abstractops.com/blog/early-stage-funding
https://www.smartnation.gov.sg/media-hub/press-releases/infocomm-media-industry-transformation-map-itm